If all of the top ten shortstops from 2008 were to put up the same exact stats in 2009, Jhonny Peralta would be the only one of the ten to outplay his 2009 Average Draft Position (ADP). (Although,
as I discussed earlier
, one could argue that Alexei Ramirez will "tie" his ADP.)
Little Jhonny had a good year in 2008. But it wasn't an out-and-out where-the-heck-did-that-come-from year. He stats were mostly in line with his '05-'08 four-year average. See for yourself:
Jhonny Peralta's four-year (2005 – 2008) average:
89 R, 20 HR, 77 RBI, 2 SB, .274 AVG.
Jhonny Peralta's 2008 campaign:
104 R, 23 HR, 89 RBI, 3 SB, .276 AVG.
The slight (or, more accurately, minorly sizeable) uptick in R and RBI can be attributed to the fact that the injuredness / poor play of Pronk and V-Mart meant that Peralta was frequently batting in the cleanup spot. I don't know where he'll hit in the 2009 order, but in his first spring training game
he hit third
. It should also be mentioned that if you decide it is okay to throw out the stats from Peralta's stinker 2006 season, Peralta's 2008 season looks even more legit. Just for kicks, let's look at Peralta's average stats from 2005 – 2008, throwing out his 2006 season:
91 R, 23 HR, 80 RBI, 2 SB, .279 AVG.
As the list below shows, Peralta is currently being drafted about 40 picks below his 2008 value: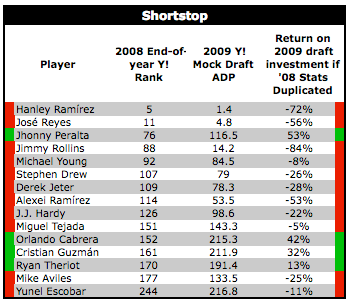 So what sort of stats does he need to get in 2009 in order to be worth his 2009 ADP?
Well, J.J. Hardy was the 126th ranked player in the Y! game last year with these stats:
78 R, 24 HR, 74 RBI, 2 SB, .283 AVG.
Conclusion
: As long as Peralta plays somewhat close to his average stats from the last four years, he'll be better than his 2009 ADP. And that's saying something because as you can see from all the red in the above list, there are very few shortstops who are capable of outplaying their ADP. More optimistically, if Peralta remembers to drink his standard-issue year-27 magic potion and plays at the top of his ability, he will easily be the best deal among fantasy shortstops. Putting it another way, you can safely draft Peralta as if he were the ninth best SS (and it is unlikely that he isn't at least a top ten SS in 2009), and in doing so you have the chance to make yourself a sweet profit on your initial ADP investment if Peralta happens to once again be the third best SS.
Oh, and as I've already mentioned
here
and
here
, I'm a sucker for multiple position eligibility, and it looks like Peralta might have some this season, as
it is possible he plays some 3B in 2009
.
Other Peralta Readables: