Here are the three main reasons I can see to make the change:
1. When Dice-K plays the Yanks, it is possible for him to get a QS for your fantasy team but also a loss to the Yanks.  Or Sabathia can get a Quality Start but a loss to the Sox.  My point is that it makes being both a fantasy baseball player and a fan of baseball a little easier.  This point might be less obvious to those of you who hate the Sox and the Yanks.  But you get the idea.
2.  Todd Jones can no longer blow your wins.  Actually, this is only partly true.  He can still let inherited runners score. Actually, that's not true either: Todd Jones is retired.  But you get the idea.
3. While handing out 
Quality Starts
(AKA six innings pitched with three or fewer runs given up) isn't a perfect way to reward a pitcher, it certainly seems better at rewarding good pitching than Wins.  One is green beans cooked in butter and the other is green beans cooked in margarine.  Or is margarine worse than butter?  I can never remember.  But you get the idea.
3b. As
RotoTommy
notes in the comment section, switching to QS eliminates the RP win vultures because you need to actually start the game to get a QS.  So don't forget to adjust your setup men, middle relief,
LOOGY
, and closer rankings accordingly.   Can there be a 3b without a 3a?  No, not really, but you get the idea.
Assuming you do make the change, which starting pitchers should get bumped up your draft board?  I thought you'd never ask.  Here is a list of the starting pitchers from 2008 who had the biggest positive W/QS differential (minimum ten QS):
Here are the starting pitchers that were least helped by the switch from W to QS (minimum ten QS):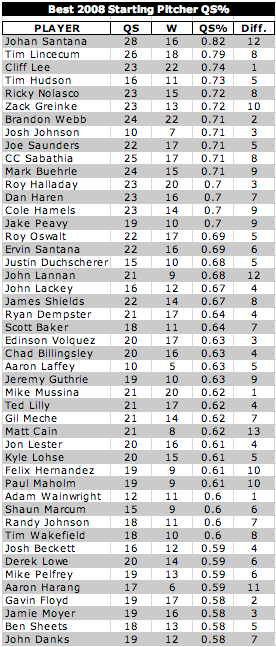 Trying to convince your league to make the switch?  Email them the link to this post.  And then also email them
this picture
of Todd Jones blowing a save.  Hopefully they'll get the idea.