One draft strategy is to target hitters who are adept at both hitting home runs and stealing bases. Some managers take this strategy to such an extreme that they won't draft players who can't steal at least ten bases and hit at least ten home runs. This probably explains why Russell Martin's Average Draft Position (ADP) is currently somewhere in the 42 range.
In an effort to help owners that prefer this strategy, I have generated a quick cheat sheet that lists all the dual HR/SB threats. The players on this list met the following three requirements:
10+ stolen bases in 2008

10+ home runs in 2008

30+ combined HR/SB in 2008

I call it the Ten-Ten Thirty Plus (TT30+) Club. Nobody else calls it this, so don't go bragging to your friends about how nearly all the players you just drafted are members of the TT30+ club. They won't know what you are talking about. But even though it is a make believe club, this list might help you to target some of the more underrated power/speed players for your 2009 fantasy baseball draft.

Note: the number to the left of each player name is the combined total of each player's 2008 home run and stolen base output.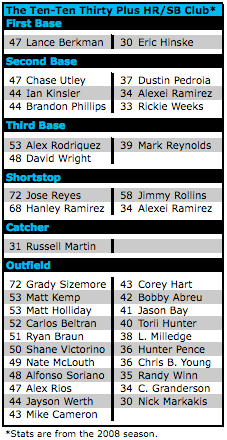 Any names surprise you? I'll leave you with a list of players that just missed being included in the above list. Some of these players will probably be joining the TT30+ club in 2009.



What player from the "just missed" list do you think is most likely to go Ten-Ten Thirty Plus in 2009?


If it helps, here is the cheatsheet I used in my actual draft.